Dear Exhibitors, Distributors, Cooperation Partners, visitors and friends,
First of all, we thank you for your continuous support, participation and care to Hortiflorexpo IPM Beijing.
Due to the sudden outbreak of COVID-19, in order to protect the health of the exhibitors and visitors and assure the effect of the exhibition, after the negotiation with the Sponsor China Flower Association, the originally scheduled the 24th Hortiflorexpo IPM Beijing, to be held on May 14-16, 2022, in China International Exhibition Center (New Venue), will be delayed to Sept.15-17, 2022, National Convention&Exhibition Center(Tianjin).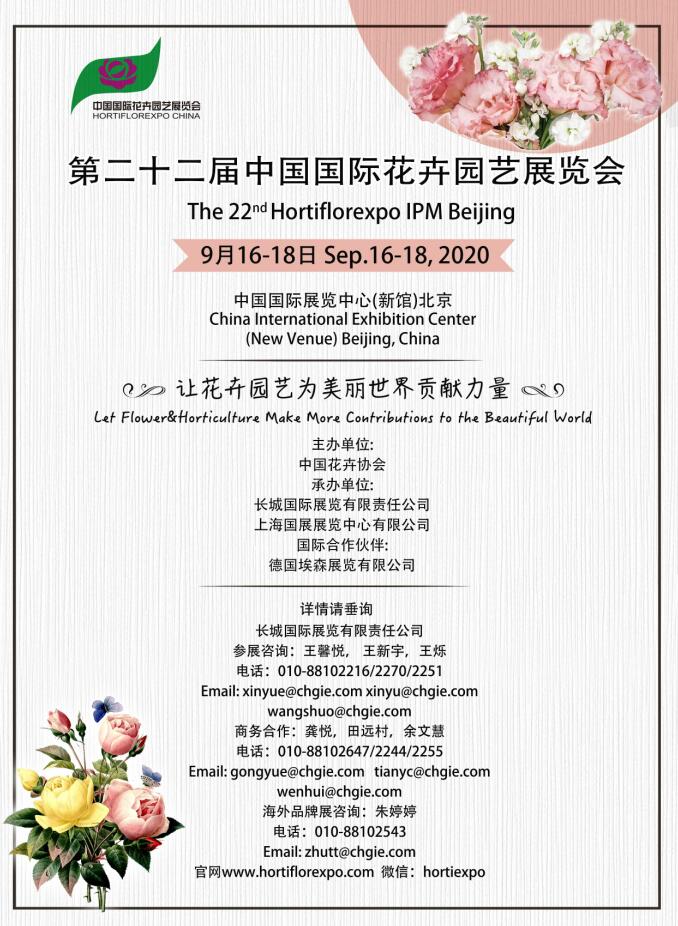 Thank you for your understanding and support! Hope everything goes well with you!
Kind regards
China Great Wall International exhibition Co.,Ltd
Contact:
Mrs. Wang Xinyue Mobile Phone: +86-15011537652 Email: xinyue@chgie.com
Mr. Wang Shuo Mobile Phone: +86-15910646638 Email: wangshuo@chgie.com
Organizing Committee of Hortiflorexpo IPM Beijing 2022
China Great Wall International Exhibition Co., Ltd.
Introduction
A Well-known Horticultural Trade Expo in China, A Leading Platform for Floriculture & Horticulture in Asia!
Hortiflorexpo has been a large and an authoritative international trade show in the industry of floriculture, horticulture and gardening in China. It is a great event held every year in Beijing and Shanghai in turn.
The TOPIC of the Hortiflorexpo: Build Up Your Business in Asia